1. Name, age, location: Danielle, Fourteen(I'm very aware I'm young), Huntley 2. 10 favorite bands: Death cab for cutie, Against me!, Bright eyes, The boy lest likely to, Vibrators, Adicts, The Clash, Elliot smith, Johnny Thunders and the Heartbreakers 3. 1+ band you hate to admit that you listen to: Gorillaz 4. 5 favorite movies: A clockwork orange, Harald and Kumar go to white castle, eternal sunshine of the spotless mind, rock horror picture show, and anchorman 5. 4 interesting facts about you:I'm VERY afraid of semi trucks. I'm a sophmore even though I'm only fourteen. I'm a vegetarian (not very intresting, but still), I don't like Dave. 6. Most attractive member from the members page, not including a mod or member of the month:
cattlehairspray
7. Go to google, type in your name and show us the best picture that comes up:
8. Choose your favorite MOD and say something nice about him/her YOU HAVE TO CHOOSE ONE:Siobhan. I really like her mohawk, She pulls it off nicely. 9.What do you think of the Member of the month?(
hidinginwords) I think she is very pretty, and I like her hair alot. 10. Put the banner (or just a link) in your info & link us or promote to 2 places: http://www.livejournal.com/userinfo.bml?user=real_phenomenon && http://www.livejournal.com/users/humannothing/92218.html?view=214586#t214586 11. Got a myspace? give us the link http://www.myspace.com/danixtoxthexelle 12. 3+ pictures of you (2 MUST be of your face) AND 150x150 for the members page: ( I don't have anything to resize pictures on my coumputer, appy polly logies.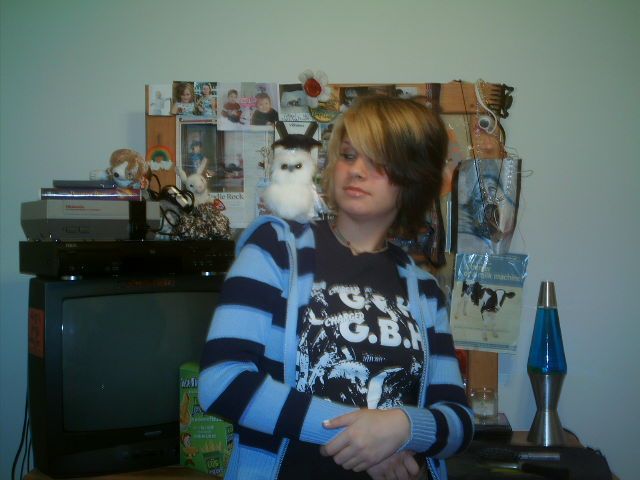 (DON'T FORGET TO PUT "EXPLOITE ME" IN YOUR SUBJECT LINE!)
Appologies for the messed up application before